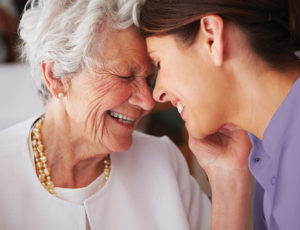 What is Long Term Care
Long-term care involves a variety of services designed to meet a person's health or personal care needs during a short or long period of time. These services help people live as independently and safely as possible when they can no longer perform everyday activities on their own.
Most Long Term Care is Provided at Home
Long-term care is provided in different places by different caregivers, depending on a person's needs. Most long-term care is provided at home by unpaid family members and friends. It can also be given in a facility such as an assisted living facility, nursing home or in the community, for example, in an adult day care center.
The most common type of long-term care is personal care — help with everyday activities, also called "Activities of Daily Living." These activities include Bathing, Dressing, Grooming, Toileting, Meal Planning & Preparation, and moving around — for example, getting out of bed and into a chair. These are services provided by in-home personal care agencies such as Heart, Body & Mind Home Care in Southwest Florida.
Long-term care also includes community services such as meals, adult day care, and transportation services. These services may be provided free or for a fee.
Health Drives the Need for Care
People often need long-term care when they have a serious, ongoing health condition or disability. The need for long-term care can arise suddenly, such as after a heart attack or stroke. Most often, however, it develops gradually, as people get older and frailer or as an illness or disability gets worse.
How Long Does Care Last?
Long-term care can last a short time or a long time. Short-term care lasts several weeks or a few months while someone is recovering from a sudden illness or injury. For example, a person may get short-term rehabilitation therapy at a nursing facility after hip surgery, then go home.
Long-term care can be ongoing, as with someone who is severely disabled from a stroke or who has Alzheimer's disease. Many people can remain at home if they have help from family and friends or an in-home personal care agency. But some people move permanently to a nursing home or assisted living facility if their needs can no longer be met at home.
At Heart, Body & Mind Home, our Residential Support Program arranges caregivers to visit your senior family member residing within an assisted living facility or nursing home to provide companionship, socialization, assistance during meals, walks or other activities beyond the routine service provided by facility staff. The program provides personal attention to your loved one and regular updates to family members who live outside of Southwest Florida or who otherwise want the additional supportive care.
About 70 percent of people over age 65 need some type of long-term care during their lifetime. More than 40 percent need care in a nursing home for some period of time.
Who Will Need Long-Term Care?
It is difficult to predict how much or what type of long-term care a person might need. Several things increase the risk of needing long-term care.
Age — The risk generally increases as people get older.
Gender — Women are at higher risk than men, primarily because they often live longer.
Marital status — Single people are more likely than married people to need care from a paid provider.
Lifestyle — Poor diet and exercise habits can increase a person's risk.
Health and family history — These factors also affect risk.
Ralph B. Laughton
President of Heart, Body, & Mind Home Care
---
Fort Myers Home Health Care
Heart Body & Mind Home Care is committed to the principle that it takes more than just effort to provide care to another human being – it takes heart. Our hearts are in all that we do. If you are interested in learning more about our compassionate home care and wellness services in Southwest Florida, including
Please contact us at (866) 488-1485.