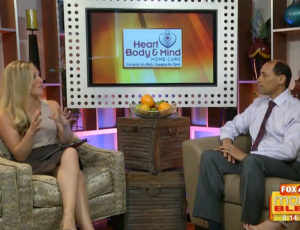 In this video with Fox 4's Morning Blend, we shared with our viewers our holistic & personalized in-home care services, as well as our mission with the southwest Florida community.
Fox 4 is the Fox affiliate in southwest Florida. It serves the cities of Naples, Fort Myers, and Cape Coral.
Please watch the video below or at our YouTube Channel.
---
Fort Myers Home Health Care
Heart Body & Mind Home Care is committed to the principle that it takes more than just effort to provide care to another human being – it takes heart. Our hearts are in all that we do. If you are interested in learning more about our compassionate home care and wellness services in Southwest Florida, including
Please contact us at (866) 488-1485.