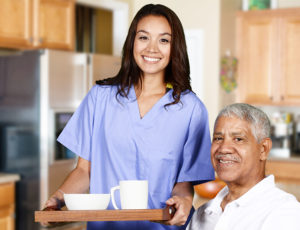 Planning for Medical Care
If you find that an older relative or friend needs your help to deal with a medical condition, there are a number of steps you can take to help that person plan for medical care. Begin by talking with the person and other family members about medical and prescription drug needs, as well as about who should have permission to act on the person's behalf.
Find Out About Health Coverage
Find out what kind of health coverage the person already has. If the person has Medicare, find out which parts: Medicare Part A (hospital insurance), Part B (medical insurance), or Part D (prescription drug coverage). Also, find out whether the person is in Original Medicare, in a Medicare Advantage Plan (like an HMO or PPO), or in any other type of Medicare health plan. This information is on the person's Medicare card.
If the Medicare card for the person you care for is not available for you to look at, you can either call Medicare together, or the person can complete an authorization form to allow you to get Medicare information released to you. To get an authorization form, call Medicare at 1-800-Medicare (1-800-633-4227). TTY users should call 1-877-486-2048. If the person does not currently have Medicare, find out when he or she will be eligible to enroll.
It is also important to find out if the person has other health coverage in addition to Medicare, such as a health plan with a former employer, Medicaid, or other insurance that can help pay for health care needs. If the person is enrolled in Original Medicare, also find out if he or she has a Medigap (Medicare Supplement Insurance) policy.
Gather the Necessary Information
As you work together to plan for medical care, it will be helpful to have the following information about the person.
Social Security number;
Medicare number and Medicare plan;
other insurance plans and policy numbers, including long-term care insurance;
contact information for health care professionals, including doctors, specialists, nurses, pharmacists;
current list of prescription and over-the-counter drugs, herbal remedies, and their dosages;
current health conditions, treatments, and symptoms;
history of any past health problems;
any allergies or food restrictions;
emergency contacts, close friends, neighbors, clergy, housing manager;
where to find financial and legal information, including the person's living will and medical power of attorney.
Getting Help from SHINE
When you have a Medicare concern that needs to be discussed, a good resource in Florida is SHINE (Serving Health Insurance Needs of Elders). SHINE is a free program offered by the Florida Department of Elder Affairs and your local Area Agency on Aging. The SHINE program gives free health insurance counseling and guidance to people with Medicare, Medicaid, and health insurance questions by providing one-on-one counseling and information to you — or to family and friends, like you, who have authorization to help someone with health insurance questions. SHINE services are free, unbiased, and confidential. (In some states, SHINE is known as SHIBA or SHIP.)
The counselors at the SHINE office can answer general questions about hospitalization, Medicare choices, and local programs that can offer additional help. They can also help you learn more about living wills and power of attorney procedures.
Florida SHINE volunteers help Medicare beneficiaries make choices among a vast array of options that include 20 prescription drug plans, 157 Medicare Advantage plans (including Special Needs Plans), as well as 25 insurance companies that offer 11 types of Medigap supplemental insurance policies in all 67 counties to offer approximately 14,740 plan choices statewide.
SHINE volunteers also provide assistance with Medicare, Medicare Prescription Drug Plan choices, Medigap, Long-Term Care Insurance options, Medicare claims and appeals, billing issues, fraud and abuse, and enrollment into financial assistance programs to assist low-income beneficiaries with the costs associated with Medicare.
You can meet with a local representative or talk to a SHINE counselor on the telephone for personal assistance. Visit www.FloridaShine.org or call 1-800-963-5337.
Ralph B. Laughton
President of Heart, Body, & Mind Home Care
---
Fort Myers Home Health Care
Heart Body & Mind Home Care is committed to the principle that it takes more than just effort to provide care to another human being – it takes heart. Our hearts are in all that we do. If you are interested in learning more about our compassionate home care and wellness services in Southwest Florida, including
Please contact us at (866) 488-1485.