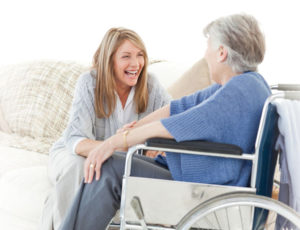 Most Cancer Survivors Are Over 65
A cancer survivor is anyone who has ever been diagnosed with cancer and is living today. Because of major advances in diagnosis and screening as well as better treatment for many types of cancer, many people are living longer with cancer. As of January 2014, it is estimated that approximately 14.5 million people in the United States have a history of cancer. Of these, 64 percent were diagnosed 5 or more years earlier, and 15 percent were diagnosed 20 or more years ago. Further, because cancer tends to affect older
adults, about 60 percent of survivors are 65 or older while 20 percent are age 80 or older.
Length of Survival Varies
How long a person may survive after a diagnosis of cancer varies considerably by the type of cancer and the stage of diagnosis. Staging describes the extent or severity of an individual's cancer. Knowing the stage of the disease helps the doctor plan a person's treatment and estimate their chance of recovery and recurrence. For example, more than 85 percent of adults with breast, prostate, and skin cancers live at least five years beyond their diagnosis. More than half of people diagnosed with leukemia, a type of
blood cancer, live at least five years beyond their diagnosis. A few cancers, such as liver and pancreatic cancer, have low survival rates regardless of the stage at diagnosis. This is largely because these cancers are often diagnosed at a late stage, when treatment is less effective.
Age and Health May Affect Survival
A person's age, and more importantly his or her health status, when diagnosed with cancer may have an effect on their survival and recovery. Older adults are more likely to have other health conditions such as diabetes and heart disease. Managing these conditions can complicate treatment and affect recovery time. Also, older people's bodies metabolize, or break down, drugs at a slower rate than younger people, and this can have an effect on the way medicines are tolerated. For instance, some older adults may not be able to tolerate high doses of chemotherapy (cancer-fighting drugs) and radiation that are used to treat cancer.
Coping After Treatment Ends
Many cancer survivors look forward to returning to a normal life after treatment ends. But for some this can be a stressful period. They may have questions about follow-up care, such as how often to see certain doctors. They may have concerns about how they feel and about what they can do to keep the cancer from returning. Some survivors have to learn to deal with changes to their bodies, such as scars from surgery or alterations in bowel or bladder function, and persistent effects of cancer and its treatment, such as pain or fatigue. Many survivors also must cope with the emotional effects of having cancer and potential changes in their relationships with their family and friends caused by
illness.
Knowing what to Expect Can Help
Understanding what to expect after cancer treatment can help survivors and their families plan for follow-up care, make positive lifestyle changes, and make important health-related decisions.
---
Fort Myers Home Health Care
Heart Body & Mind Home Care is committed to the principle that it takes more than just effort to provide care to another human being – it takes heart. Our hearts are in all that we do. If you are interested in learning more about our compassionate home care and wellness services in Southwest Florida, including
Please contact us at (866) 488-1485.